2nd General Assembly 2022 & Erasmus+ Cooperation Seminar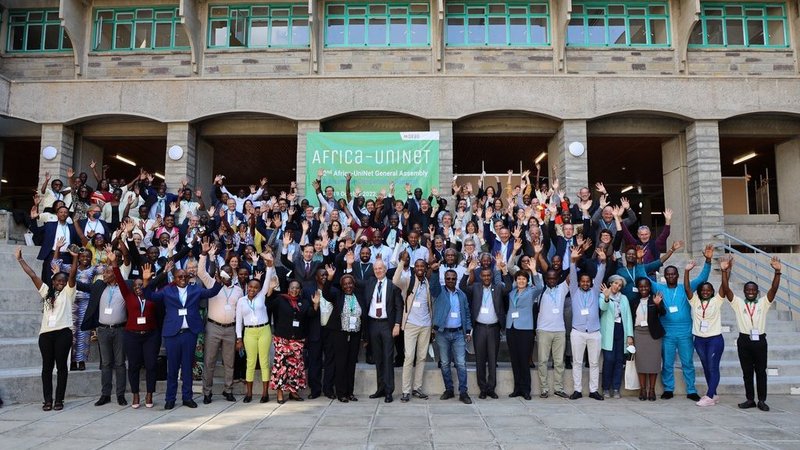 More than 130 representatives of universities and higher education institutions from Austria and 16 countries in Africa met from 17-19 October at Egerton University in Kenya for the 2nd Africa-UniNet General Assembly and Erasmus+ Cooperation Seminar.
The aim of the event was to establish new and deepen existing research partnerships between higher education institutions. Moreover, experiences and challenges of international research cooperation were discussed. The participants overwhelmingly appreciated the opportunity to (re-)connect in person after a long break, due to the COVID-19 pandemic.
During the 2nd General Assembly, members of the Africa-UniNet had the opportunity to meet again more than two years after the first General Assembly in Vienna. Since many new members joined the network since, it was the first opportunity for many to get to know each other and discuss the successes and challenges of the past two years. Two new members, the Austrian Academy of Sciences (ÖAW) as well as the Austrian Foundation for Development Research (ÖFSE) were officially accepted as the latest members during the General Assembly. This brings the total number of member institutions to 68 (26 from Austria and 42 from African countries). In addition, the Board and the Presidency of Africa-UniNet were elected as required by the Africa-UniNet statutes. Univ.-Prof. Hubert Hasenauer (BOKU) and Prof. Nzula Kitaka (Egerton University) were confirmed for another term as President and Vice-President respectively in order to allow the network to stabilize and mature after two challenging years.
The Erasmus+ Cooperation seminar provided a welcome chance to learn about funding opportunities provided by the European Union in order to compliment the seed funding provided by Africa-UniNet. As the European Union significantly increased the funding for sub-Saharan Africa to 23% of external policy funds in the new Erasmus+ programme period (2021-2027), participants were keen on taking the opportunity to establish new institutional partnerships between Austrian and African higher education institutions. In match-making sessions the university and higher education representatives informed each other about their specific fields of interests and institutional profiles to set the cornerstone for cooperation within Erasmus+.
It is expected that many new research partnerships will emerge from these personal encounters and that the scientific cooperation between African countries and Austria will enter a new stage.
Following the intense three days of official programme participants also had the opportunity to encounter the natural beauties of Kenya during optional leisure activities.
Photo gallery
Following this link you can find a selection of photos of the event. You are invited to upload your own photos. Please note that these photos are for personal use only. In case you need a photo for official use, please contact us to acquire copyright information: https://photos.app.goo.gl/aP5KCHF3hvKLbsKDA